Pez For Trade!



Here's a list of extra pez from me & my husband's pez collection that we currently have available for trade.
Email me, Julie, at juliejorde@hotmail.com or my husband, Grant, at grantsjo@yahoo.com with offers or questions.

This page was last updated on November 24, 2007
Discontinued/Exclusive Pez Dispensers For Trade:
Dispenser (quantity)

Packaging

Stem Patent #

Stem Color/Description

Charlie Brown

MOC

3.9

Older card showing 99cent price.

Pluto B

MOC

3.9

Older card showing 99cent price.

Spiderman

MOC

3.9

Older card showing 99cent price.

Pumpkin B (small head)

Loose

3.9

Green stem

Bugs Bunny A

Loose

3.9

Yellow stem

Santa w/o Painted Eyes

Loose

3.9

Red stem

Short-ear Light Blue Batman

Loose

4.9

Aqua stem

Soft Shell Chick (Green Shell)

Loose

4.9

Aqua stem

Pez Girl

Loose

4.9

Red stem - with extra holes in cheeks

Nermal

MIB

4.9

Grey stem

Smiling Garfield w/ teeth

MIB

4.9

Orange stem

Garfield w/ visor

Loose

4.9

Orange stem

Walgreens Tanker Trucks

MIB

5.9

Both tanker styles available

Snowman A Parts
(head with hat, eyes, & 3 teeth)

Loose

N/A

Snowman A's head only with hat, both eyes,& 3 teeth
The hat has a couple small cracks in the back (out of view)


Current Pez Dispensers For Trade:
All current dispensers are loose in good condition and on 4.9 stems unless otherwise noted. Feel free to request pictures by email.

Mint Regular Red, Mint Regular Blue, Mint Regular White, Mint Regular Purple,Luke Skywalker, Ewok, Darth Vader, Donald Duck B (closed mouth), Donald Duck C (open mouth), Bee, Wolverine, Pumpkin, Dr. Skull, Witch (Glow-In-The-Dark), Naughty Nel (non-glowing ghost), Kermit, Easter Bunny, Speedy Gonzales, Pebbles, Santa, Icee Bear B, Valentine's Heart, Sour Blue Rasberry


Other Pez Items For Trade:
| | | |
| --- | --- | --- |
| Item (quantity) | Condition | Description |
| Pez Girl Bobble Head | Loose | Red Stem |
| Pez Party Favor | Loose | Pez-a-Saur - I-Saur |
| Pez Rocket Pen | Loose | Yellow |

Are there other current US Pez items you need but don't see on our "for trade" list above? Email us (at the addresses above) with what you're looking for and we could probably find it for you.
We're interested in getting any Pez items not already in our collection, here's just some we're looking for in particular:
Chin Strap for Football Player
Hello Kitty's Kuririn
The Incredibles Unmasked (MOC, any except Jack Jack)
Tweenies (any MOC)
Gundam (any)
Golden Glow remake
Japanese Mint Regulars (MOC, any except pink)
Misfit Color Variations
Euro-Pez Pals (Mariner, BP, Aral, any colors)
Fat Ear Bunnies (any no feet)
Older MerryMusicMakers (Lamb, Dog, Monkey, Frog...)
Older Trucks (any with moving wheels)
Older Holidays (3-Piece Witch, Mr. Ugly, Chick w/ Blue or Purple Shell...)
Older Super Heroes (Dark Green Hulk A, Wonder Woman w/o feet, Spiderman w/o feet...)
Older Warner Brothers (Henry Hawk, Wile E. Coyote, Petunia Pig...)
Older MGMs (Tyke, Barney Bear, Droopy Dog A w/ movable ears, Tom A, Jerry A...)
Older Disneys (Dalmation Pup, Original Jungle Books, Original Pooh, Thumper...)
and many more... we're willing to trade plus pay cash for certain older Pez dispensers as well!
---

My Homepage | My PEZ Collection | Pez Links


A total of




people have visited this page
---
<![if !vml]>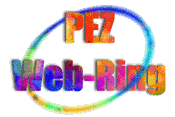 <![endif]>Click for the
[Previous] [Random] [Next]
[Next 5] [List]
site(s) in the PEZring.
Click here for info on how to join the PEZ Web Ring.
<![if !supportEmptyParas]> <![endif]>
---
---
PEZ® and the PEZ® name are registered trademarks of PEZ® Candy, Inc.
This page is not endorsed or affiliated in any
way, shape, or form to PEZ® Candy, Inc.